I called about the job interview on Monday. I was told that they had made someone an offer and were waiting to hear if they were going to take the job or not. Needless to say, I didn't get it, so it's been a pretty crap week for me. Everyone keeps telling me to not give up and keep trying, and I don't plan on giving up. I wish I could, but I've got too much on the line to just let go and not try. I've got nothing to go back to if I can't get a job and make this living situation work. I've got a room in a house in the middle of nowhere, living with grandparents who aren't getting any younger, in an area with far less jobs than there are here. It's like a black hole. If you're older you come to that area to retire. If you're born there you assimilate and go into whatever local business pays the bills, or leave at the first chance and only go back to visit.
My back is against the wall and I've got nowhere else to go. I'm still applying to places every day; I won't let that slip. It's getting harder every day to find new places to apply to. I'm even reapplying to several of them. I'm right back where I started; backed into a corner with no place else to run. I have to work my way out somehow, because there are no other options. Before I made this move I swore I'd do whatever it takes to make it work out, and that's what I intend to do still. I'm doing this for myself as much as I am for Stef. This is something that I've known I was going to have to do one of these days, and it has to be done. I want to make a better life for myself, and I just hope that after all is said and done she'll still be a part of it. If it wasn't for her I'd have never made it this far on my own.
Fredericksburg is having a pride day thingy this weekend, so we're thinking of going. I'm hoping that I might meet some people that could offer me a job or help get me in touch with someone who could. There's several businesses in town that are sponsoring it, so maybe I'll get lucky. Every other job I apply to has 100 other people applying to it also, so I really need a lucky break or some inside information to get ahead at this rate.
On a lighter note I started painting again the other day. I had been racking my brain lately for some new art ideas to make myself feel at least somewhat productive. I got a little inspiration from Stef telling me all the time not to give up on the job hunt. It's nothing too special; I actually did it in about 4 hours. Anyway, here's a picture of the latest work. I'm calling it persistence.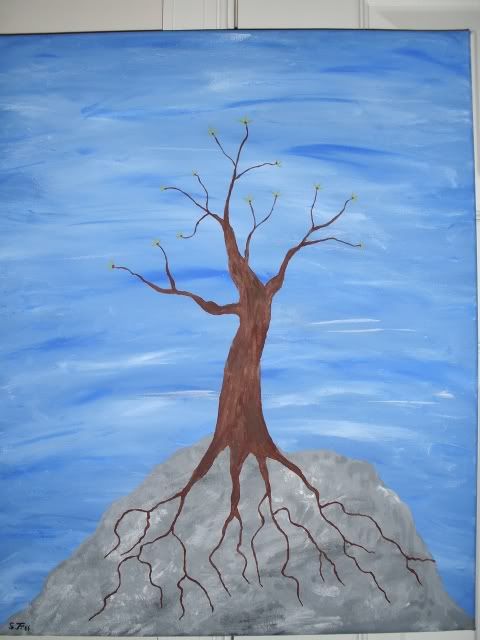 I've got another idea I'm going to start working on soon. I won't say what it is yet, but I'm hoping I can make it even better than this one.