I finished a new painting last night to add to my transition series. I did it on an 11"x14" canvas so it was too big to scan, at least on my scanner. I was forced to take a picture instead, which has been giving me mixed results. I've got a picture of it, but the left side may seen a little too dark. Trust me though, it looks a lot better in person and not quite so dark to the one side. Anyway, here it is.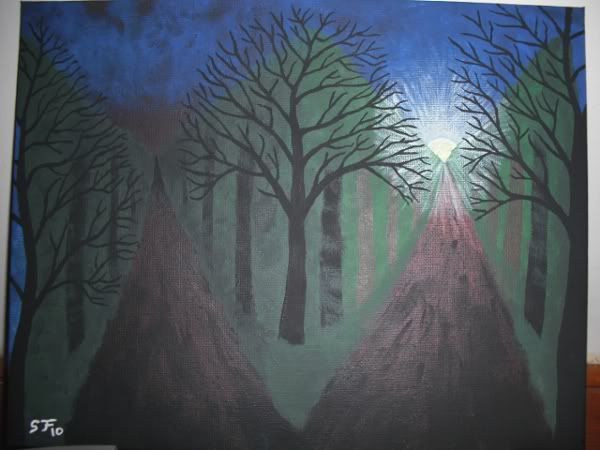 I made it as a perspective image to show what the girl in the first painting would see in front of her. It's mostly a representation of how much of a choice it was for me to decide to transition. I hate to hear people say that what I'm doing was a choice, so this is my answer to that accusation. I'll attempt to get a better shot of it at some point, I have to get the lighting just right or it comes out too dark or took bright.
I plan on trying to do more work soon. I've been studying my influences a lot lately, so I've been looking up artists that I like and looking at their work to get some inspiration. I like to consider myself a bit of a modern day impressionist, but it's hard for me to really put a label on my painting style. I have so many influences in a few different styles, so it's like a combination of impressionism, expressionism, symbolism, fauvism, and surrealism. That's just naming main "isms" that I gain inspiration from. I'm experimenting with some different stlyes lately, as you can probably tell by my last painting. I went more expressionistic and less subjective with it, mostly since I was trying to convey a feeling more so than any kind of asthetic appeal. Oh well, with any luck I'll have some more work to show in the next couple of weeks.