I randomly decided to go out today, even though it was cloudy, and see if I could get any decent pictures. Something must have been working for me, because I've added 6 new pictures to my portfolio just from what I took today. I'll post them up so you can see them.
I followed one of these little guys around until he finally landed next to another butterfly. It was kind of cute, they were both moving around each other and flapping their wings up and down. Looks like spring is in the air.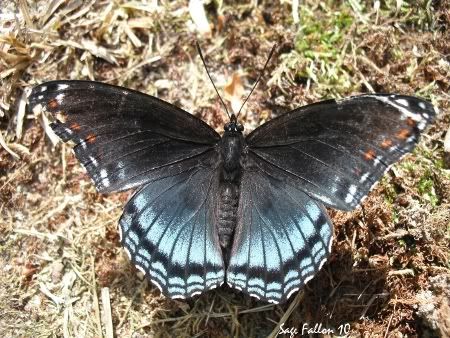 One of the butterflies flew off, but this one stuck around. I swear this is the most perfect looking shot of a butterfly I've ever gotten, and a black and blue one at that. I've been trying to get a shot this good of one with those colors for 2 years.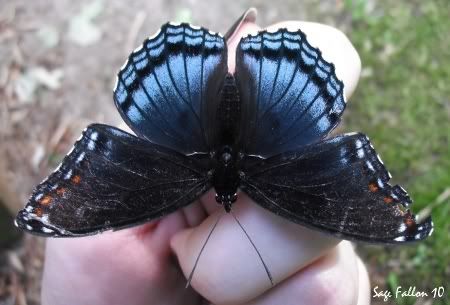 Amazingly when my batteries started dying, he or she, I'm not sure how to tell, let me pick
him
or her up. I couldn't believe it when I just nudged her with my finger and she climbed up on it. I held her like that for about 5 minutes until the batteries completely died. She would have stayed there longer if I hadn't shooed her off so I could go back inside and recharge my batteries.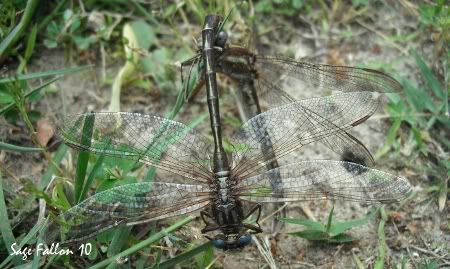 These guys prove that spring is definitely in the air, they look like they're having fun. I caught them in the act! This is probably the only time a dragonfly is going to sit still long enough for me to get a decent picture of them. I ran into them before the butterflies actually, I just thought they looked cuter so I put them first. This is the first and only shot of a dragonfly I've ever gotten, and it has two at that. Not bad for a day.
Just when I thought I was done for the day, and already happy with my work, this cute little guy wandered into my backyard. He obviously belongs or belonged to someone else, because he let me pet him and kept following me around. He didn't have any collar and this was the second day in a row he's showed up.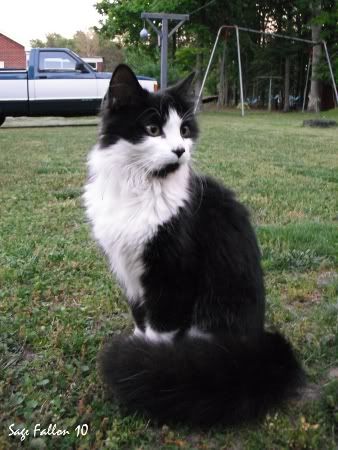 This was one of my favorites of him. You never know, if he keeps coming around and no one is missing a cat I may have a new pet. He seemed to like me and was pretty playful, so I don't know. It was a pretty good day. Not a lot really happened, but I'm pleased with my photo work. I wasn't even expecting to get anything decent with it being overcast a good part of the day. I got lucky and some sun seemed like it came out at just the right time for me. Have I got good timing or what? I even got a few interesting looking cloud shots, but I'll save those for another day. I guess my
persistence
finally payed off.